5 Perspective Shifting Books to Cozy Up to This Fall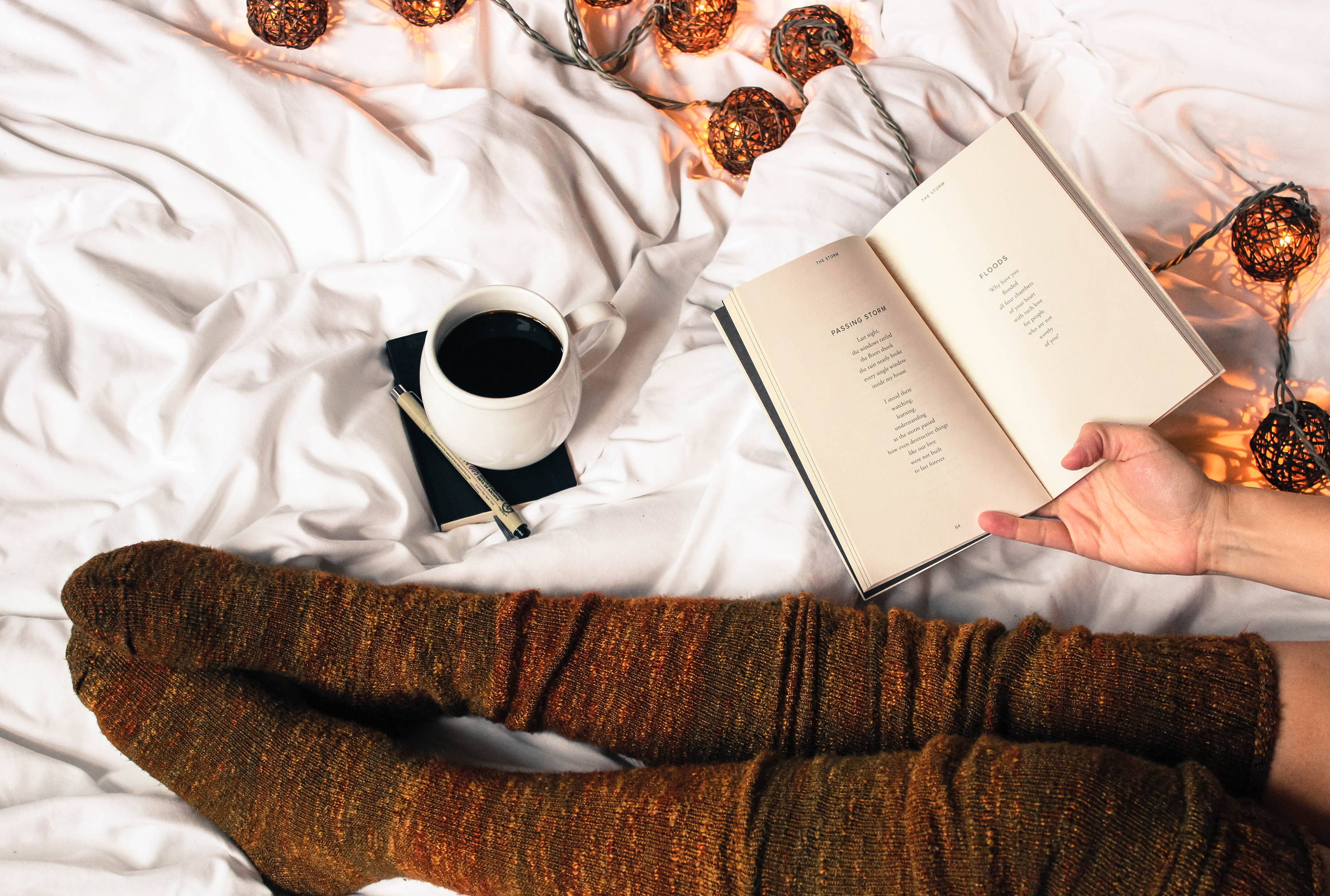 The seasons are changing, temps are cooling, and we are stepping into the slower momentum of Autumn. 'Tis the season to grab a cup of hot pumpkin-spiced coffee, a bowl of butternut squash soup, and hide out under your favorite blanket. Although I can get behind a lazy day, I'm not a fan of a lazy mind. Fall is the perfect opportunity to take your personal self to the next level by cozying up to these five books that will shift your perspective, your power, and your life. Use this cooler season to cocoon in all the right ways ensuring springtime is pure butterfly vibes:
1. Big Magic – Elizabeth Gilbert
I'm a huge Liz Gilbert fan. She's really had me since Eat, Pray, Love. Her writing style is down-to-earth, easy to read, and incredibly relatable. Big Magic is no exception to this literary rule. Gilbert does it, yet again, by sharing the magic of the creative process. This book will have you considering your own creativity, intuition, and how they merge together to help birth ideas and projects in alignment with your purpose. Liz gives you permission to quit hiding your own magic under perfectionism and criticism to simply create what the Universe is asking you to create and become who you were divinely born to be!
2. Girl Stop Apologizing – Rachel Hollis
Although, I liked Rachel Hollis' first New York Times Best Selling Book, Girl, Wash Your Face, I absolutely LOVED the sequel Girl, Stop Apologizing. No, you don't need to read both to have the sequel make sense -- but you'll probably want to. This read will force you to advocate for yourself, your life, your dreams, and take your business to the next level. Hollis begs of you to stop apologizing for who you are and what you want and to just go after it. The energy of this book alone will launch you into your best, most productive self.
3. Believe, Bigger – Marshawn Evans Daniels
Although, a Christian-based read, I would highly recommend Believe, Bigger to anyone looking to surrender control, trusting the Universe or a higher power. Marshawn Evans Daniels shares her personal journey of becoming a powerhouse, which includes a heart-wrenching story of breaking off an engagement days before the wedding. Daniels helps you understand disruption in your life as an invitation to tap into your true purpose. She takes a step-by-step approach guiding you back into your power and purpose, even if your life has been flipped upside down.
4. The Women Who Run with the Wolves – Clarissa Pinkola Estes, Ph. D.
A book on Wild-Woman Archetypes isn't something I would've typically gravitated toward but I can easily say it found me. Estes takes you through ancient mythology, stories, and the mystics of the wild woman archetype and divine feminine origins. She pulls lessons from each story, deeply grounding your intuition to take back your power. A pretty dense read, The Women Who Run with the Wolves is full of major "a-ha moments" and nuggets of profound wisdom, designed to shift your perspective of the life/death/life cycles and how your soul speaks to you.
5. Rock Your Soul: The Down-to-Earth Guide to Mastering Your Mind – Nichole Eaton
Insert shameless plug for my book here. Jam-packed with psychological evidence and quirky analogies this book will help you get to the bottom of your perceptions, and their negative impact. Rock Your Soul not only helps you identify unhelpful thoughts but launches you into a better version of yourself by learning how to control your mind, change your thoughts, and find gratitude along the way. This off-beat read will encourage you to dive into your best self, drop the excuses, and live a life you're excited about.
So, what are you waiting for? Swing over to amazon. Stop by your favorite library. Arrange a book swap party. Fall is waiting for you to become your best self yet. I
If you need help, I've got you covered with personalized 1:1 soul therapy coaching sessions. These sessions help cut through the blocks and barriers by tapping into my powerful intuition and reconnecting you with your personal power to make life changes, mental changes, and improve your overall well being.