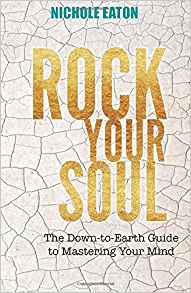 How the hell can I be happier? Get out of my head? Feel better about myself? If you've been digging your way towards a better life and a better mindset, Licensed Mental Health Counselor, Co-Owner of Clarity, and overall badass, Nichole Eaton, has you covered.

This is not your momma's self-help book.

Rock Your Soul: The Down-to-Earth Guide to Mastering Your Mind is off-beat, honest, hilarious, and yet dives into the innerworkings of your brain in a fun way to help you get a grip on your thinking. Through a conversational writing-style, crazy stories, and genuine scientific evidence, Nichole will help you:

 Improve your mood, relationships, decision-making skills, and overall awesomeness
 Get back to who you truly are by tapping into your true passion, purpose, and desire
Gain understanding and awareness of thought patterns that suck • Learn how to flip your shitty thoughts into better ones
Use scientifically-proven and unusual, yet fun mind-changing strategies
Understand how your brain works so you can override it
Live your best life by unleashing your mind's true power

So, are you ready to Rock Your Soul?