What Should I Pack in My Carry-On for a Long Flight?
I had never been on a 15 hour flight…followed by a 7 hour layover followed by another 8 hour flight…but for the stunning scenery in the Maldives, I'd give 24 hours' worth of travel a go!

But the question came down to packing. I'm not a big carry on person. In fact, domestic flying I usually go bare minimum. So, what did I really NEED while traveling on a lengthy international flight (other than the obvious passports/visas/travel documents)?

The following is a list of suggestions plus an additional list of "I wish I would'ves":

1. Entertainment.
• Laptop + Charger (Consider including an electrical adapter for both your layover locations and your final destination)
• Phone + Charger
• Notebook + Pen
• Books, Magazines, etc.
• Headphones (If you have the iPhone headphones, grab some normal ones to use for the in-flight entertainment)

2. Medicines.
• Small packet of Advil/Ibuprofen if you're prone to headaches.
• Your personal medicines.
• Emergen-C Packets
3. Water/Snacks
• Healthy Fruits. (Small oranges, cut up apples)
• Purchase water at each stop or bring an empty water bottle to fill up as you go.
• Gum/Mints
• Granola Bars/Protein bars

4. Beauty Products.
• Josie Moran Tinted Moisturizer
• Weleda Skin Food Moisturizer or any Hyaluronic acid serum
• Sample-size Mascara
• Travel size Batiste dry shampoo
• Young Living Essential Oil: White Angelica (For peace and calming during your flight)
• Tooth brush/travel sized tooth paste
• Cetaphil travel-size face wash
• Under eye concealer
• Hair ties and bobby pins
*Pro Tip: Most international airports have a duty-free shop with high-end skin care lines that have samples or testers. Find a great overnight mask or eye cream that you might not purchase otherwise and give it a go. I'm currently writing this from Shanghai with Kiehl's Midnight Recovery Oil plastered on my face.
5. Comfort.
• Your coziest sweatshirt
• Neck pillow
• Small blanket
6. The Obvious.
• Passport/ID
• Travel documents. (I.e. Hotel or transfer information)

• Extra Clothes. (don't forget undies and a swimsuit!)

Wish I would've:
• Compression Socks. My feet were swollen for the first three days of vacation. Swelling can lead to major health issues.
• Eye mask. There were many times I was asleep on the flight and they would turn on the lights for food service.

• Scarf. One that can be rolled up and additionally use as a blanket. Our flight ended up pretty cold.
My best suggestion is to pack intentionally but minimally. I definitely couldn't have lived without my laptop but being able to freshen up at each stop i.e. toothbrush/toothpaste, face wash, essential oil was vital for me.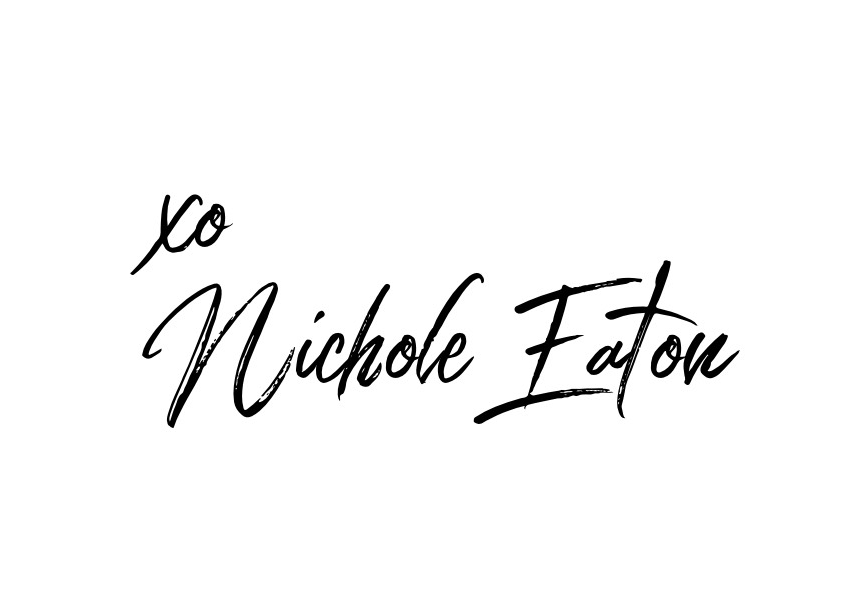 Keep up with NIchole on Instagram @nicholeeaton.xo
Grab your copy of Nichole's book Rock Your Soul on Amazon.
Scroll down to sign up for Nichole's E-mail List!